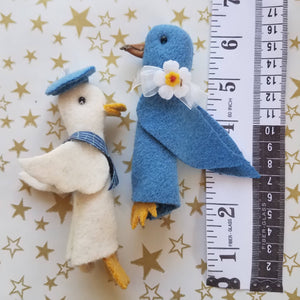 Little Bird & Duck Pattern - PDF download
Regular price
Sale price
$8.00
---
Hey there, little winged one.
Here's an easy-to-sew little beastie you can make in an afternoon. Crafted from boiled wool, felt, or fleece, your bluebird or duckling can be a finger puppet that peeks out of the top of a stocking, an ornament for your tree or tablescape, or a very special package topper. Your PDF download includes the pattern you can print out on card stock, 26 pages of fully illustrated instructions (including how to prep boiled wool), plus patterns for optional costume variations and accessories.

If you're new to sewing, you'll find the instructions beginner-friendly whether you have a sewing machine or want to learn hand-stitching techniques for toymaking. Children under 10 will most likely need adult accompaniment in order to succeed unless they already have a bit of sewing experience.  And if you're more experienced at sewing, you'll find lots of creative costume and accessories options for exercising your imagination. For some ideas to get you started, visit the Design-Your-Own page or our Customers' Character Gallery.
Birds finish about 5 inches tall, so they can fit right into the 1:12 standard for dollhouses. Making a batch of little birds or ducks could be a great way to prep for the holidays this year. Make different characters and/or enlist the children in your life to design costumes for the characters. Please note: these animals have small parts and are not suitable for children under 3.
To make each little bird or duckling, you'll need:

Body fabric: 10" x 5" piece of felt, fleece, or boiled wool
Tiny bit of contrast felt, fleece, or boiled wool for beak and feet
Eyes: 3mm opaque black glass seed beads (6/0), 2 per bird
Thread:

body: all-purpose thread
eyes: button & carpet/button craft thread

Needle for hand sewing
Polyester stuffing: small amount for head
Card stock or index stock for pattern pieces
Chopstick or turning stick
Glue: Strong-holding fabric glue: Beacon Fabri-tac or Aleene's OK to Wash It, hot glue or permanent glue dots
Optional:

Disappearing marker for marking position of eyes, nose, mouth
Fabric markers, crayons, or paint for variations
Costume fabric: felt, cottons, wool, tulle, etc.
Notions: ribbon, lace, trim, ric-rac, etc.
Please note: Your purchase does not transfer copyright and is an agreement that you will not forward, duplicate, teach or sell the instructions, or designs.. If you are interested in licensing designs and/or finished product for commercial use, please contact info@craftdesignworks.com Thank you for understanding!