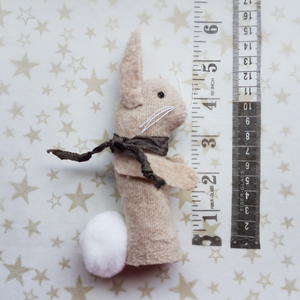 Little Rabbit Pattern by mail
Regular price
Sale price
$12.00
---
Puppets! How about stitching an easy finger puppet rabbit?
Here's a little puppet you can make in an afternoon, a beginner sewing project that takes you step-by-step through the basic skills for stitching toys.
Starting to learn to sew? The instructions are designed to be beginner-friendly, using a sewing machine or completely by hand.  
If you're more experienced at stitching, this pattern will open the door to so many simple, creative, and fun options for adding character to your little rabbit. Top hats, bonnets, skirts, scarves and more are on the costume pattern page. Another page will get you started with personalizing your character creations with accessories.
An easy sewing project for beginners and skilled crafters (maybe oldsters and youngsters?) to work on together, it's quite likely to turn into a family tradition. Children under10 who don't already have a bit of sewing experience will most likely need adult accompaniment in order to succeed. 
Finishing at 5 inches tall, these bunnies will fit right into the standard 1:12 standard dollhouse using the included cardstock stand pattern. A rabbit can be a character in a puppet play, a little face that peeks out of the top of a stocking, an ornament for your tree or tablescape, or a very special package topper. Add the stand and the rabbit can live in a dollhouse, join fantasy characters in a fairy house, or join other toys on the shelf.
This listing is for a printed pattern/tutorial that will come to you in the mail.  A 20+ page fully illustrated booklet of instructions (including how to prep boiled wool) is the right size to keep by your sewing machine or travel with you in your project basket. Also included are patterns for the optional costumes, accessories, and stand.
This listing will arrive via mail, but if you'd prefer a digital download pdf file pattern, click here.
And if you don't want to round up all the supplies you need for the project, click here for the everything-but-the-scissors kit that includes the printed pattern, instructions and almost everything else you need to complete 2 bunnies.
So how about making a batch of little bunnies as part of your holiday prep this year? It's a small convenient project you can easily carry around with you to work on when you have few minutes to fill. Make some yourself and/or enlist the children in your life to design costumes for the characters. Please note: bunnies have small parts and are not suitable for children under 3.
Here's what you'll need to make each little rabbit:
Body fabric: 7" x 10" piece of felt, fleece, or boiled wool
Eyes: Opaque black glass seed beads - 3mm (6/0), 2 per rabbit
Thread:
   body: all-purpose thread
   eyes: button & craft thread
   embroidered features: embroidery thread
Polyester stuffing: small amount for head
Card stock or thick paper for pattern pieces

Turning stick: chopstick, pen, etc.
Glue: Strong-holding glue: Beacon Fabri-tac, Aleene's OK to Wash It, hot glue, permanent glue dots,Tacky
Pen for tracing patterns onto fabric
Needle, scissors, etc.
Fine-point black pen for snout
Clothespins to use for clamps if your glue isn't instant-hold
Optional:
Cording or yarn for rabbit tail
Disappearing marker for marking position of eyes
Brown fabric marker for shading
Costume fabric: felt, cottons, wool, tulle, etc.
Notions: narrow ribbon for sashes and bows
To see some ideas of what you can do with the little animal finger puppets, visit the Design-Your-Own page or our Customers' Character Gallery.
Please note: Your purchase does not transfer copyright and is an agreement that you will not forward, duplicate, teach or sell the instructions, or designs.. If you are interested in licensing designs and/or finished product for commercial use, please contact info@craftdesignworks.com Thank you for understanding!

---